History of Tadley URC
A 17th century chapel built to look like an ordinary house when non conformist churches were persecuted. Records confirm Thomas Ovey received a grant £5 from the Congregational Fund on 13th April 1696 although it is believed the building could date back to 1662.
It is certain that the Meeting House was built upon its present site in 1718 with Joseph Tate being the minister. Prior to this meetings were held in a house in Tadley named Gardiner's. Joseph Tate was buried in 1724 within the church before the pulpit.
The original worship area consisted of an open space with a gallery on three sides which was accessed by an external staircase. It is recorded as being able to seat 450 people, although this must have been very cosy! It is understood that during the times of persecution there as a hidden door below the pulpit to allow the presiding minister to escape if there was a raid.
The worship area was extended in the 1828 to accommodate and additional 100 worshipers and the 'School Room' added to the side maybe around 1848.
The surrounding graveyard is regarded as the 'Tadley' burial ground by many long standing Tadley families although the official graveyard is at St Peters just outside the town.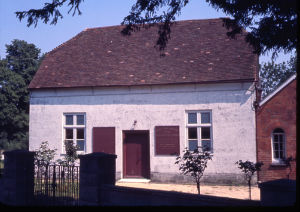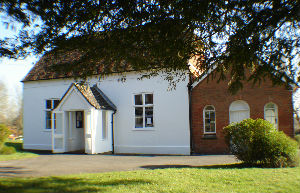 The United Reformed Church resulted from the 1972 union of the Presbyterian Church of England and the Congregational Church in England and Wales. In 1995 the Immanuel Centre hall was built to accommodate the children's work at the church.